Police on Saturday, November 27, intercepted six motor vehicles that had been stolen in Nairobi and were being ferried to neighbouring Ethiopia.
This is after the police, swiftly responding to intelligence, managed to track down a motorcycle to a Moyale-bound bus along Thika Road.
The motorbike had a hidden tracking device, which revealed the trail of stolen vehicles from Nairobi to the border town where they are re-assembled sold.
Undated image of a Police Station in Kenya
File
According to Morris Nyang'au, a member of the staff of a company that sells motorbikes, one of the bikes sold to a client on loan had been stolen and was tracked to Kiamaiko. Here, one of the two tracking devices was damaged alongside other parts.
The dismantled motorcycle was then sent to Eastleigh as a package. It was then loaded onto the bus as a parcel destined for Moyale. As the bus set off, the signal moved, heading towards the superhighway, prompting Nyang'au to alert the police.
"We then informed the police who acted swiftly and helped track down the bus that was ferrying the motorbikes," he stated.
The police recovered the stolen bodaboda disguised as a package. The bus was then nabbed and taken to Capitol Hill Police Station in Nairobi where a detective carried out a further search on the bus.
Nairobi County Police Operations Chief Said Kiprotich stated that the detectives recovered five additional bikes.
"The detectives were shocked to get a total of five other motorbikes that had been packed as parcels. They placed a different kind of tracker and managed to get the other four," the police boss stated.
Kiprotich revealed that two suspects had also been apprehended in relation to the theft. He added that the company which sold the bodaboda had filed a report with them after being suspicious of the people to whom they sold the motorbike. 
The bus company reported that the individuals who had booked the parcels had refused to open the boxes. The two will be arraigned in court on Monday, November 29.
The arrest comes nearly two months after police busted a syndicate selling stolen bikes. According to a report by Citizen TV on Saturday, October 2, indicated that over 400 motorcycles with an estimated value of Ksh60 million have been stolen and sold into the neighbouring country.
The syndicate targets newly purchased motorcycles from boda boda riders, most of whom buy them on credit.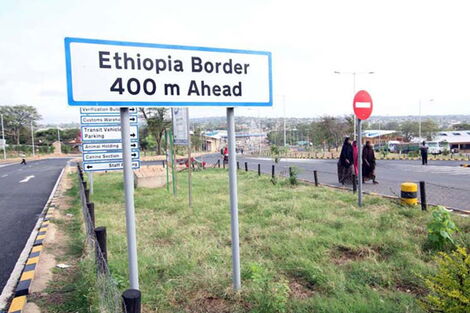 Kenya-Ethiopia border town.
File
stolen arrest suspect
ADVERTISEMENT


Source link : https://www.kenyans.co.ke/news/71021-hidden-device-reveals-how-vehicles-are-stolen-nairobi-ferried-ethiopian-border
Author :
Publish date : 2021-11-28 13:39:56